Course details
★ Ladies only ★ All 10 items of barrel sparkling & craft beer 10 kinds OK !! 3 H with unlimited drinks all you 4500 yen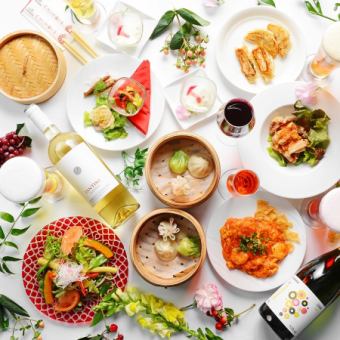 4500 yen
(Tax included) ※ Female group only
All-you-can-drink available

■■ 10 kinds of craft beer ★ Drink unlimited menu ■■
Reservation deadline

Coming to the store until the desired date of the day 17
Available days for reservation

Monday - Sunday - Public holidays - Holidays
Dim Sum, which is popular among women, meal such as Ebichiri sauce, barreled sparkling and all our own beer that our shop boasts are drunk! All kinds of beer such as recommended beer such as recommended beer are also weak Lineup! A nice girls' party with a cozy dining room overlooking Ginza night view.
Course menu
~ Cuisine content ~
■ Appetizers Three types of platter
~ Steamed chicken served with Negishi sauce · Homemade pickles · Seasonal fish and seafood pickles in Namba ~
■ seasonal salad
■ Two kinds of homemade gyoza
~ Original dumplings of pork · Yuzu dumplings of chicken etc ~
■ fried crunchy oil ginger roe
■ Assorted dim sum
~ Seafood flower wrapping · Konpaku burning etc ~
■ Chilli sauce of shrimp and egg
■ Chef's whimsical dessert
■ All you can drink ■
Friday and before holidays ⇒ Two-hour system
***********************
★ Course option ★
◇ Plus 1000 yen ⇒ All you can drink for one hour!
◇ Anniversary plate with message 1500 yen! ※ Reserved until 2 days in advance
***********************
※ Regarding cooking and drink content, it may change without notice depending on purchasing situation.
※ It is up to the day before for changing the number of people.
* Cancellation and changes in the number of people on the day may be subject to a predetermined cancellation fee.
※ It is limited to women group.
※ For food please order on the day.
All-you-can-drink menu
· 10 kinds of craft beer
· Hugarden White 【Belgium】, Hofbrau Lager 【Germany】, Merlin Chenni 【Czech Republic】, Yojack Shen Kobu Nipal 10 【Czech Republic】, Stella Artois [Belgium】
· Cropton Endeavor 【UK】, Cropptone Blackout 【UK】, Pike IPA 【America】, Burgsott Dabel 【Belgium】, Today's craft beer
·Cocktail
· Standard cocktail, original via cocktail
·wine
· House wine (red / white), sparkling wine packed in a barrel
·whiskey
· Water split, soda split, ginger ale split, rock, straight
·Soft drink
· Orange juice, grapefruit juice, red grape juice, pomegranate juice, coca-cola, oolong tea
2018/09/08 update