Course details
★ RENGE course long plan ★ 3 kinds of craft beer including alcohol 3 hours with all you can drink 6000 yen (tax included)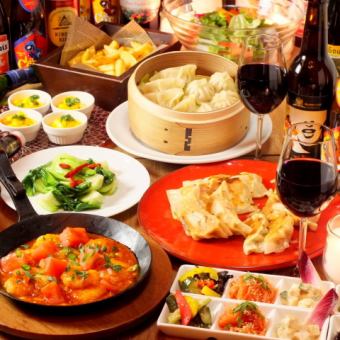 By using a coupon6000 yen
(tax included)
All-you-can-drink available

■■ 3 kinds of craft beer ★ Drink All-you-can-eat menu ■■
Reservation deadline

Visit of hope the day before until 21:00
Available days for reservation

Monday - Thurs, Saturdays, Sundays, Holidays
Pre-order long plan! Enjoy the popular shrimp chili sauce and handmade dumplings! Direct imported barrel draft beer 3 kinds & wine Other hours 3 hours plus drinks All you can 6000 yen including tax!
Course menu
<Cooking>
■ Appetizers Three types of platter
~ Steamed chicken served with Negishi sauce · Homemade pickles · Seasonal fish and seafood pickles in Namba ~
Stir-fried bean paste
■ fried crunchy oil ginger roe
■ Two kinds of homemade gyoza
~ Original dumplings of pork · Yuzu dumplings of chicken etc ~
■ Fresh tomato prawns
■ Sweet rose meat black vinegar and sweet and sour pork
■ Hong Kong Yakisoba
<Drinks>
■ Three types of beer draft beer
· Hugarden White (Belgium)
· Hofbrau Lager (Germany)
· Brooks Zott Bock (Belgium)
■ wine
· House wine White Red
Tull justified sparkling
■ cocktail
·gin
·vodka
·whiskey
· Cassis and peche 20 kinds
■ Soft drinks
·Orange juice
·Cola
· Red grape juice etc.
***********************
★ Course option ★
◇ Plus 1000 yen ⇒ Draft beer of barrel upgraded from 3 species to 10 species!
◇ Anniversary plate with message 1500 yen! ※ Reserved until 2 days in advance
***********************
※ Please acknowledge that the content of the course may change due to purchase situation.
※ It is up to the day before for changing the number of people.
* Cancellation and changes in the number of people on the day may be subject to a predetermined cancellation fee.
※ The seat will be announced on a two-hour basis.
※ The last order of all you can drink is 30 minutes before the end.
All-you-can-drink menu
· 3 kinds of craft beer
· Hugarden White 【Belgium】, Hofbrau Lager 【Germany】, Brookszot Bock 【Belgium】
·Cocktail
· Standard cocktail, original via cocktail
·wine
· House wine (red / white), sparkling wine packed in a barrel
·whiskey
· Water split, soda split, rock, straight
·Soft drink
· Orange juice, grapefruit juice, red grape juice, pomegranate juice, coca-cola, oolong tea
2018/09/08 update