Course details
【Summer Limited Course】 All 8 items Barrel Sparkling & Craft Beer Including 2H Drinking 4980 yen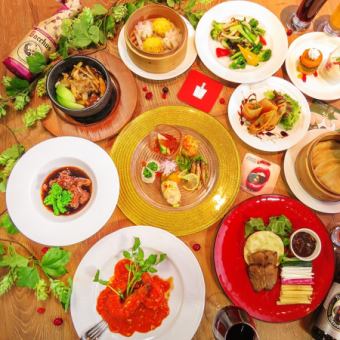 All-you-can-drink available

■ All you can drink menu ■ Direct imported barrel draft beer 3 kinds & wine etc.!
Reservation deadline

Coming to the store until the desired date of the day 17
Summer only, if you speak of summer beer! Enjoy brilliant Chinese cuisine with mind that goes well with beer and marriage of your own imported craft beer !!
Course menu
~ Cuisine content ~
■ Assortment of two appetizers
~ Steamed chicken accompanied with Negishi sauce · Seasonal fish and seafood pickles in Namba ~
■ Chef's Recommended Salad
■ Sautéed fragrant potato frit
■ Handmade dumplings
■ Dim Sum 2 types platter
■ Chilli sauce shrimp
■ Chinese style sauce of pork belly - curry flavor ~
■ Chinese Chimaki
<Drinks>
■ Three types of beer draft beer
· Hofbrau original lager (Germany)
· French Francis Carnavic Weir (Germany)
· Spaten Optimeter (Germany)
■ wine
· House wine White Red
Tull justified sparkling
■ cocktail
·gin
·vodka
·whiskey
· Cassis and peche 20 kinds
■ Soft drinks
·Orange juice
·Cola
· Red grape juice etc.
***********************
★ Course option ★
◇ Plus 1000 yen ⇒ Draft beer of barrel upgraded from 3 species to 10 species!
◇ Anniversary plate with message 1500 yen! ※ Reserved until 2 days in advance
***********************
※ Please acknowledge that the content of the course may change due to purchase situation.※ It is up to the day before for changing the number of people.* Cancellation and changes in the number of people on the day may be subject to a predetermined cancellation fee.※ The seat will be announced on a two-hour basis.※ The last order of all you can drink is 30 minutes before the end.
All-you-can-drink menu
· Three types of beer draft beer
· Draft barrels of different styles can be drunk and compare! Hofbrau Lager (Germany) · French Francis Vienna (Germany) · Spaten Optimeter (Germany)
·wine
· In-house imported house wine (red, white) Barrel sparkling
·Cocktail
· Cocktails (Gin · Vodka · Whiskey · Cassis · Campari · Pesce etc)
·Soft drink
· Orange juice, grapefruit juice, red grape juice, coca-cola, ginger ale (sweet / dry), oolong tea
2018/06/24 update